SYSTEM quatro150. The best solution in the CR. A height and width raster for your comfort.
09. 05. 2015 Novelties
We keep seeking innovations for the optimum solution for moving and working in our kitchens. For this reason, we are the first company in the Czech Republic to introduce a height and width raster of 150 mm, the HANAK quatro150 concept. The main competitive advantage of this concept is the increased height of the work area, which has a positive effect on work comfort in the kitchen and also on the health of those who work in it.
No more bending and back pain in the kitchen! We think about your health, and the quatro150 system is optimally designed so that it respects work ergonomy in the kitchen.
The height raster of 15 cm allows for a more comfortable height of the work area against the practices of other producers so far. Those generally offer to persons with a height of up to 174 cm a height of the cabinet bodies of 72 cm, while with us, the height has been increased to a total of 75 cm.

This optimised height helps with a proper posture during work, so especially the back does not suffer so much.
Even long preparation of meals is thus still very comfortable. Besides this, another added value is also
the increase in usable space inside the bottom cabinet (more space for utensils).
. We have been using this system for more than 5 years and only the best furniture producers in Europe utilise it. Customers praise furniture of this height, which only documents that we have chosen an ideal solution.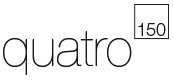 The best height and width system, and we are the first company in the Czech Republic to start to use it
The optimum height of the work area – no more painful back!
More internal space in the bottom cabinets
Link to our parametric production