OPTIMA 3LINE Kitchen
The OPTIMA modern kitchen unit with its simple and stately lines is enlivened by a fashionable violet tone. The unit of open niches provides the kitchen with lightness. Notice the embedded supporting lighting which creates a pleasant atmosphere.
Ergonomics

this modern kitchen unit has been designed according to planning rules. Not only will it make cooking and meal preparation easier, it will also save you precious time.
Comfortable dining

at a dining table for four people with a metal leg and a tabletop
in decor which perfectly corresponds with the kitchen unit.
More than 1,500 possibilities
We offer you more than 1,500 types of door designs and endless combinations of materials and colours for all pieces of furniture in five categories: veneer, varnish, laminate and glass with the option of surface design in gloss or matt. Get inspired and have a look at some of them.
For easy orientation our architects and designers have prepared recommended combinations of colors and materials. Get inspired and fulfill your dream.
Dark combinations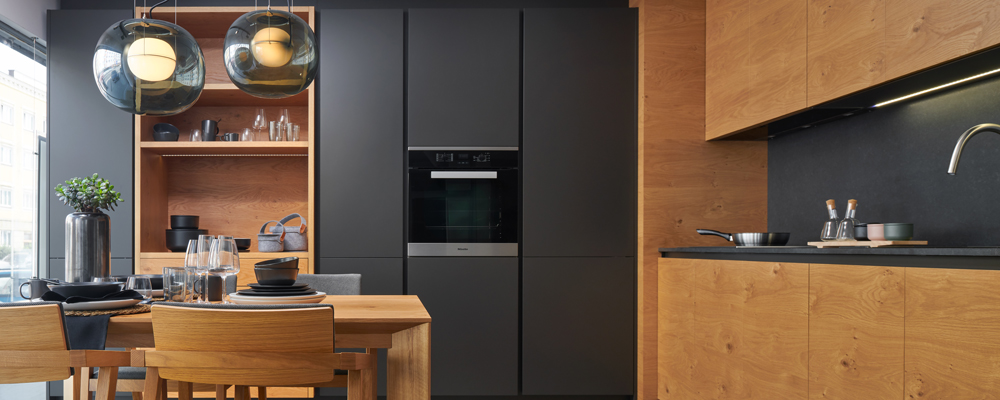 Light combinations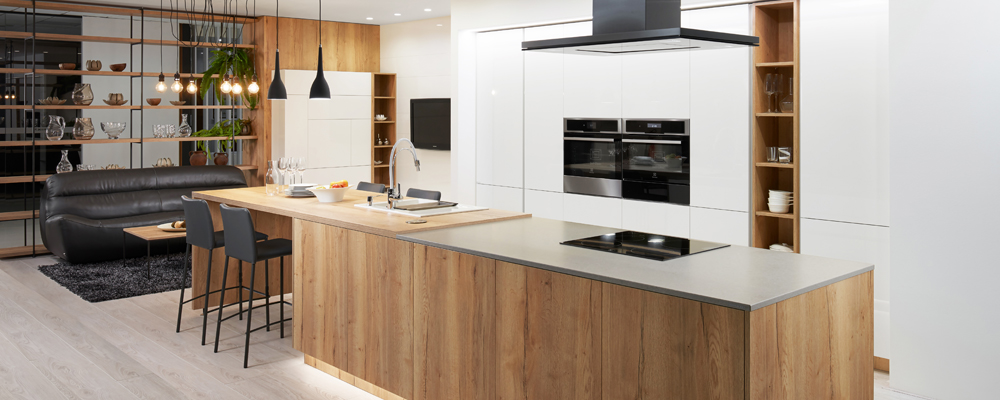 Rustic combinations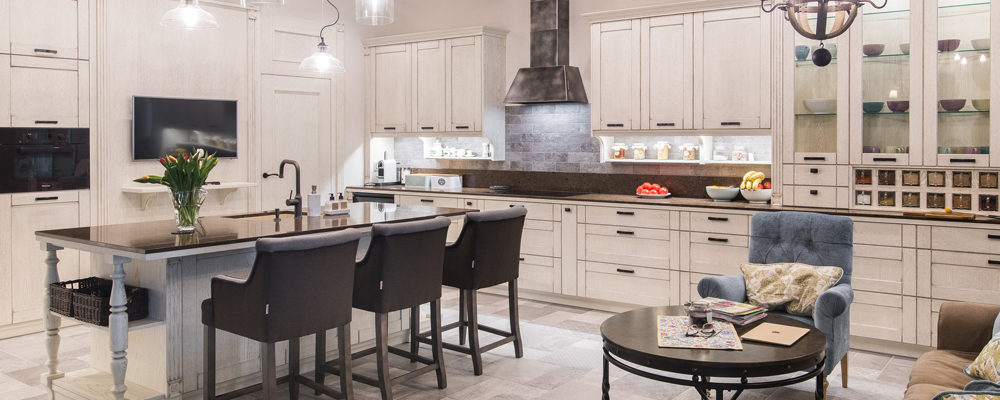 Range of handles
Handles are an essential complement to almost every door and every drawer. Their appearance changes with the latest trends and you can choose from a wide range of stylish, rustic, ceramic, glass, round, angular or designer handles.
Modern handles
U69

U113

U114

U118

U133

U137

U138

U183

U184

U187

U190

U191

U226

U236

U237

U256

U257

U263
Classic handles
U95

U139

U140

U141

U142

U143

U144

U145

U146

U147

U148

U149

U150

U193-1 / U193-2

U195

U219-1 / U219-2

U224

U227

U228

U229

U232

233

U234

U235

U244-1 / U244-2

U245

U246

U247

U248

U249

U250

U251

U252

U253

U254

U255
Various designs for specific types of furniture are available at our designers.
Laminates Trendcollection
Wood decors
White wood

Dub selský světlý

Dub selský světlý

Dub rustikal přírodní

Ořech Arezzo

Dub rustikal hnědý

Carbon wood
Laminates gloss
Sněhově bílá lesk

Champagne lesk

Titan lesk
Laminates matt
Profiles
SOLID

CONTURA

UNO

LYON

ADRIA

AVIGNON

ANTICO

HALINA

HARMONIA

FORM

LORETA

MADAME

MILANO

NICE

ORNELA

ROYAL

STELA

VERONA

YORK
Equipment & ergonomy of kitchen
The kitchen, which saves your time and your body
Your interior will be awesome
Come and visit our professional network of kitchen studios HANÁK.
Quality is not just a presentation and certificates, but is mainly about the technologies, materials, fair trade and cutting-edge manufacturing facilities. Be interested in the actual quality of the product and the declared parameters.

We are professionals in our field. You will meet only with trained planners, architects and designers, who will give you always only good advice. Visualization and price offers are prepared well and quickly.

Do you need advice? Visit our studio, we will create the best ergonomic and aesthetic design of the interior for you.