LYON / SOLID kitchen
Kuchyně v kombinaci dvou modelů a materiálů. Klasická kuchyně LYON s decentním rámečkem a jemnou úchytkou vytváří spolu s bezúchytkovým modelem SOLID velmi vkusnou sestavu.
Přírodní dýha a lak

Zkombinovat tmavou dýhu a tmavý odstín laku
bylo v tomto případě tou nejlepší možnou volbou.
Stolování

Netradiční pojetí jednoduchého stolování vzniklo
položením čtvercové stolové desky na pracovní desku.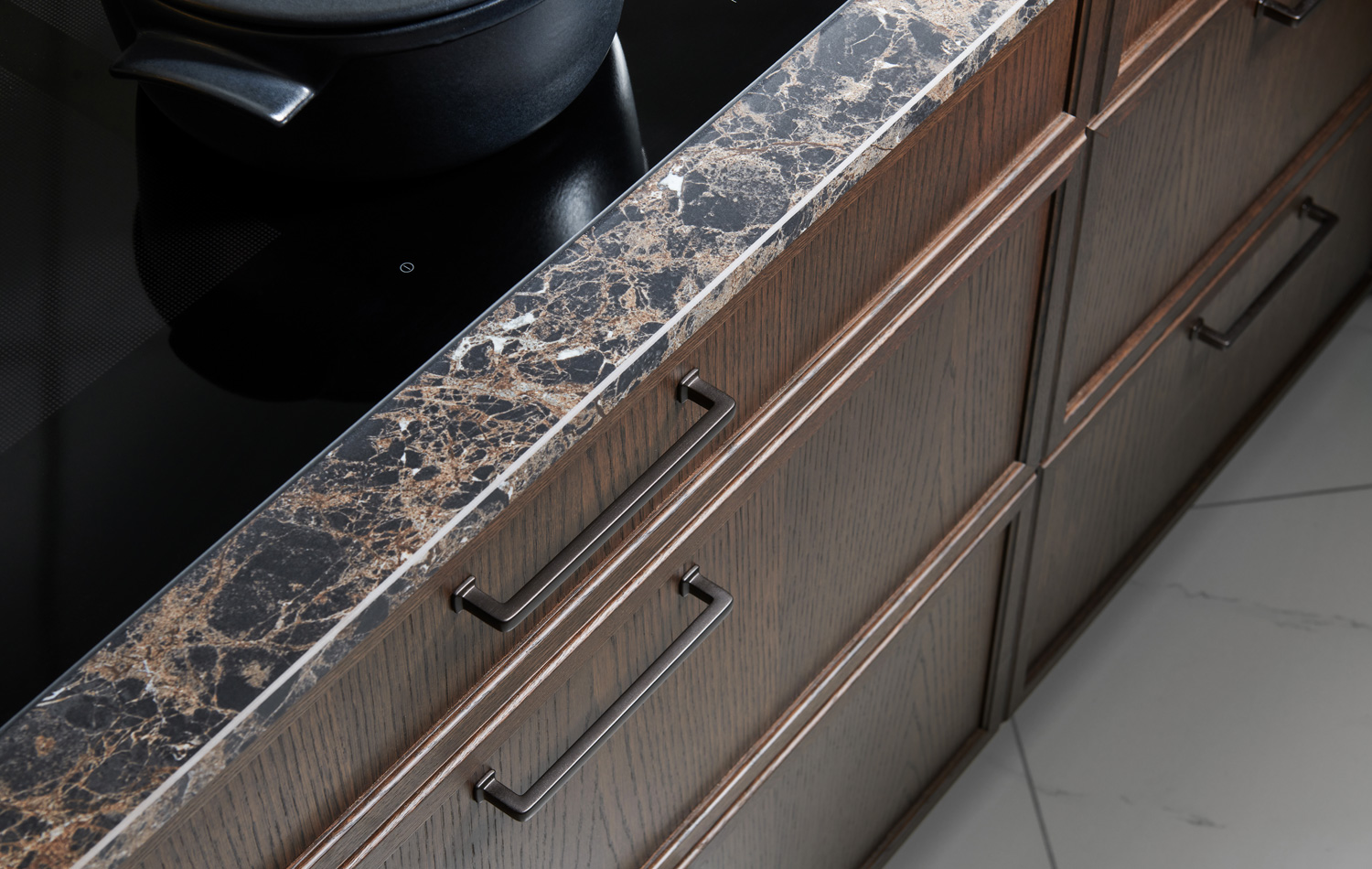 Dubová dýha

Spojení klasické kuchyně a tmavé dýhy působí vždy velmi luxusně.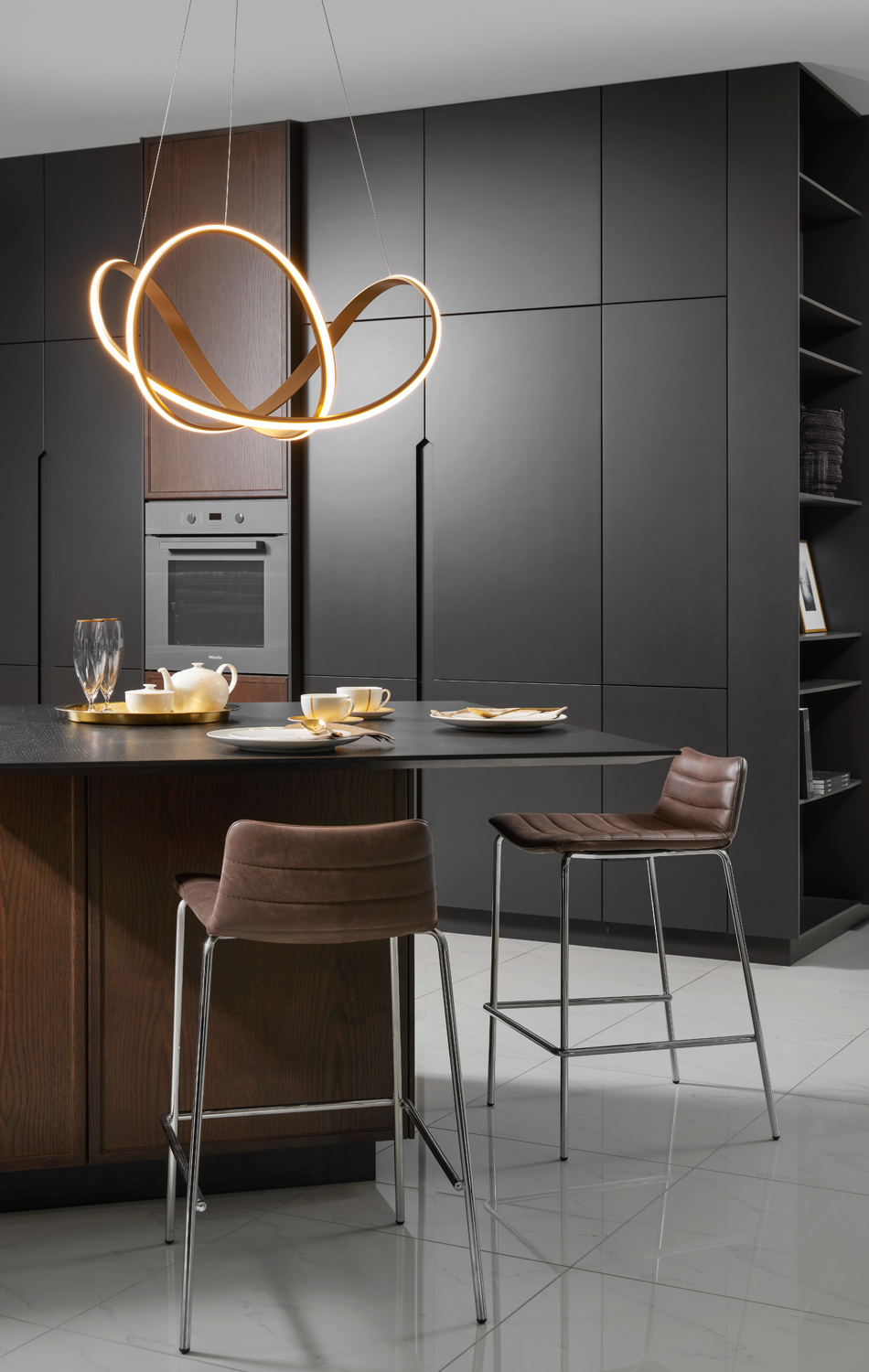 Symetrie

Celá sestava kuchyně je dokonale proporčně vyvážená a symetrická.
More than 1,500 possibilities
We offer you more than 1,500 types of door designs and endless combinations of materials and colours for all pieces of furniture in these categories: veneer, varnish, laminate and glass with the option of surface design in gloss or matt. Get inspired and have a look at some of them.
Various designs for specific types of furniture are available at our designers.
Varnishes Premiumcollection
HANÁK PREMIUM seven-layer varnish is a synonym for genuine quality, resistance and exclusivity. It lasts for dozens of years and is scratch resistant.
Standard colours – Lacquer gloss / matt
Bílá polar lesk

Bíla polar

Magnolia lesk

Magnolia

Champagne lesk

Champagne

Mocca lesk

Mocca star mat

Šedá lesk

Šedá mat
Possible designs regarding a specific type of furniture are available at our designers.
Natural veneer Premiumcollection
Dub americký přírodní

Dub americký OLD

Dub americký šedý

Dub americký hnědý

Dub americký carbon
Worktops
The worktop is a very important part of every kitchen. You can choose from our wide range of materials and colours.
Laminate
Artificial stone
Technistone / Silestone
Ceramic
Granite
PD U-S273MG

PD A 3347

PD T 5147

PD T 5125

PD T 5162

PD F 2272

PD S 6177

PD A 300
Your interior will be awesome
Come and visit our professional network of kitchen studios HANÁK.
Quality is not just a presentation and certificates, but is mainly about the technologies, materials, fair trade and cutting-edge manufacturing facilities. Be interested in the actual quality of the product and the declared parameters.

We are professionals in our field. You will meet only with trained planners, architects and designers, who will give you always only good advice. Visualization and price offers are prepared well and quickly.

Do you need advice? Visit our studio, we will create the best ergonomic and aesthetic design of the interior for you.