JS24 dining table
The JS24 dining table in a rustic design with rounded table supports and decorative patina.
Round shapes
This table can be combined with the rustic kitchen models of MILANO, VERONA, ROYAL and others.

Variants and dimensions (cm):
Standard table 140 x 90, 170 x 90, 200 x 100, 250 x 100
Folding table 140-190 x 90, 200-250 x 100
More information on our studios.
More than 1,500 possibilities
We offer you more than 1,500 types of door designs and endless combinations of materials and colours for all pieces of furniture in five categories: veneer, varnish, laminate and glass with the option of surface design in gloss or matt. Get inspired and have a look at some of them.
For easy orientation our architects and designers have prepared recommended combinations of colors and materials. Get inspired and fulfill your dream.
Dark combinations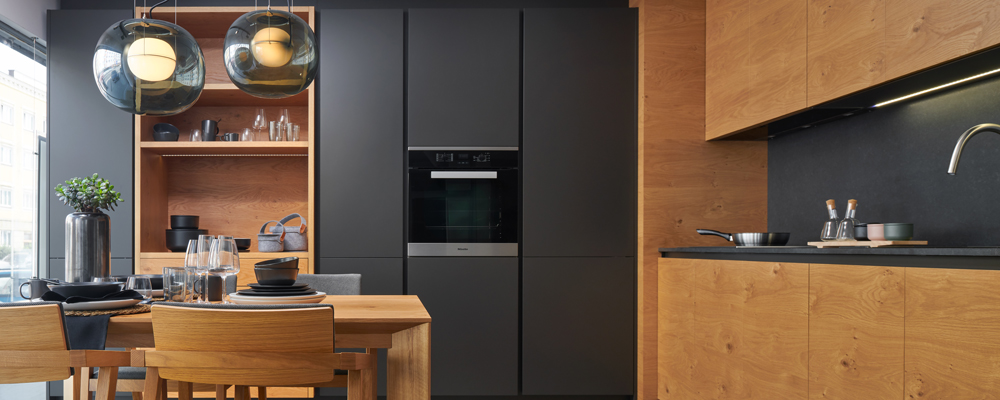 Light combinations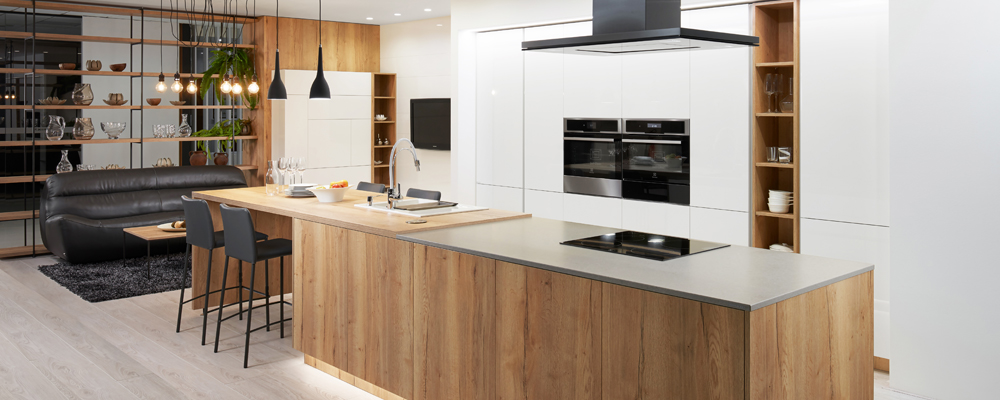 Rustic combinations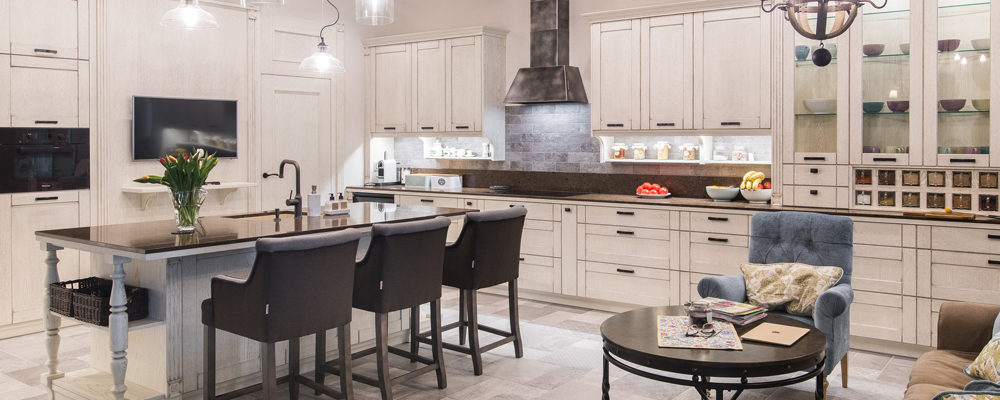 Equipment & ergonomics of tables
Ergonomics
A table is used primarily for dining or for laying aside various items. We group tables according to their purpose into:
dining tables
desks
PC tables
serving tables
coffee tables
The most popular shape of a table top is a rectangle or square. If you have a large space you can have a round or oval table, which is usually larger and therefore takes up more space.
According to the ergonomic rules the minimum width of a place by the table for one person is 45 cm, but 60 cm provide more comfort.
Dining tables
A dining table can be situated independently or it can be connected to the kitchen cabinets or to the living room.
The table dimensions are based on the average size of the human body as well as on the space needed for dining. The more people the larger table you need.
Tables with round or oval tops are very popular thanks to the equal arrangement of all diners. On the other hand, they require more space.
Coffee and dining tables
The dimensions of coffee tables are not fixed. Height is the most important parameter and should correspond to the height of seating. The trend now is for lower seating.
Coffee tables are available in various surface designs, but they should always fit in with the interior.
Our portfolio also includes practical coffee tables, which can help resolve a lack of storage space.
Your interior will be awesome
Come and visit our professional network of kitchen studios HANÁK.
Quality is not just a presentation and certificates, but is mainly about the technologies, materials, fair trade and cutting-edge manufacturing facilities. Be interested in the actual quality of the product and the declared parameters.

We are professionals in our field. You will meet only with trained planners, architects and designers, who will give you always only good advice. Visualization and price offers are prepared well and quickly.

Do you need advice? Visit our studio, we will create the best ergonomic and aesthetic design of the interior for you.