GALAXIE kitchen
If you love a contemporary organic design which is original and distinctive, then you will probably love the GALAXIE kitchen. Its round shapes fascinate with their clean finish and simplicity.
Surrounded by an island
a spacious work island in an unconventional shape will pleasantly surround you.
It respects ideal ergonomics and skilfully hides a row of drawers and other kitchen aides.
Down to the last detail
the island is fitted with electric SERVO-DRIVE pull-outs representing a brilliant hi-tech solution. The pull-outs feature an electronic blocking system against collisions.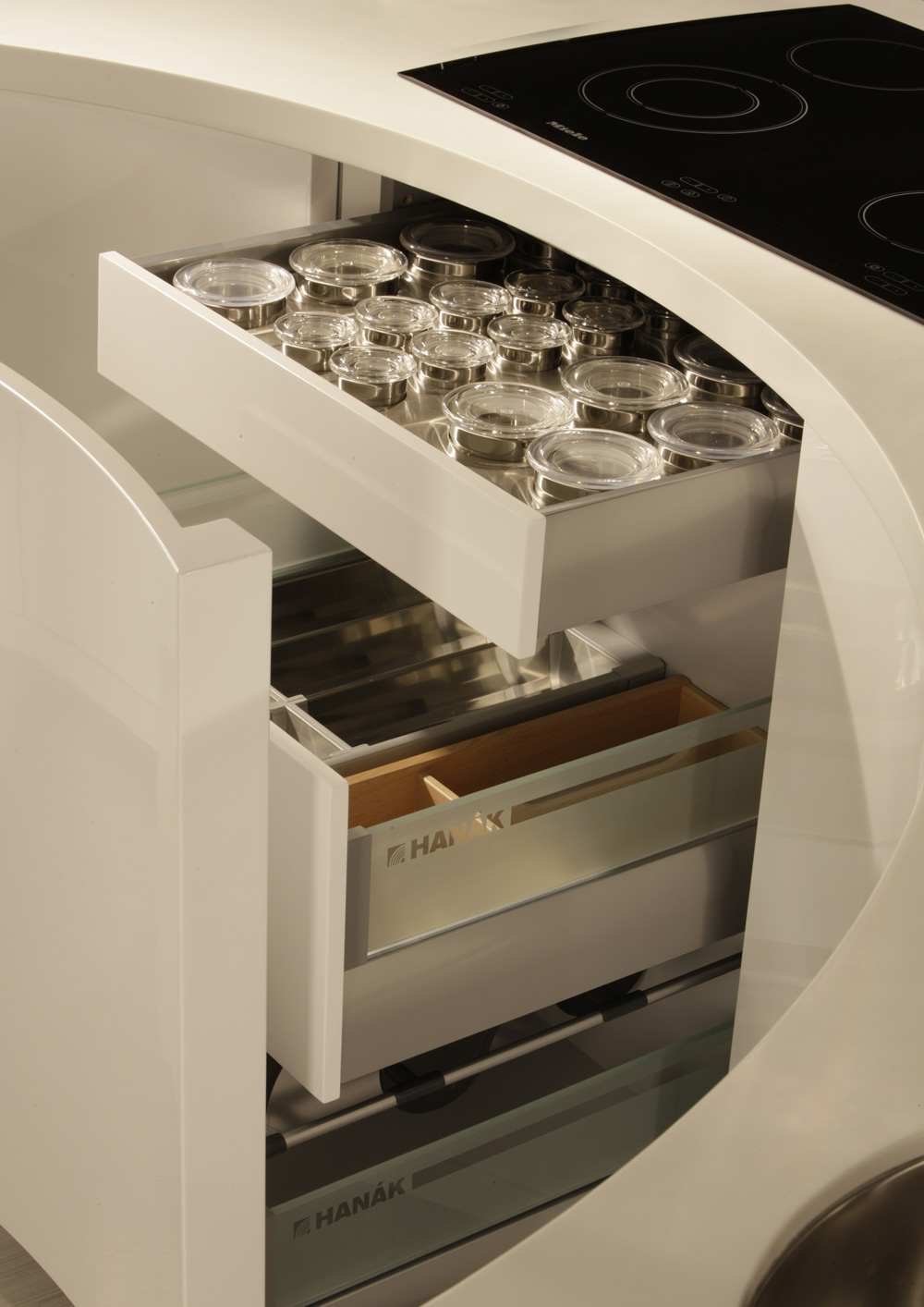 HANÁK INTERIOR CONCEPT
your organic kitchen can be matched with dining room or living room furniture in the same design.
More than 1,500 possibilities
We offer you more than 1,500 types of door designs and endless combinations of materials and colours for all pieces of furniture in five categories: veneer, varnish, laminate and glass with the option of surface design in gloss or matt. Get inspired and have a look at some of them.
Představujeme nové modely a materiály, které odpovídají aktuálním trendům a požadavkům. Kolekce HANÁK vychází z vlastního konceptu pro vybavení celého interiéru v jednotném designu, materiálu a kvalitě – INTERIOR CONCEPTu. Seznamte se s modely, materiály a odstíny, které jsme po vás do naší nabídky doplnili.
Nové modely
Naše aktuální kolekce obsahuje 4 nové modely dvířek, které jsme navrhovali s důrazem na kvalitu a ergonomii. Při navrhování jsme se řídili aktuálními trendy a výsledkem je design, který je nejen estetický, ale především praktický.

Laky PremiumCollection
V reakci na aktuální trendy jsme do naší nabídky zařadili také metalické odstíny, které vašemu interiéru přidají ten pravý punc exkluzivity a prémiovosti.

Stříbrná metalíza tmavá

Zlatá matalíza
Oboustranný lak vysoký lesk
Titan star lesk
Oboustranný lak sametový mat
Titan star mat
Laky Trendcollection
Jednostranný lak vysoký lesk
Bílá orion

Šedá lesk

Titan star lesk
Jednostranný lak sametový mat
Bíla polar mat

Šedá mat

Titan star mat
Přírodní dýhy Premiumcollection
Co je víc než kvalitní přírodní materiál? Prémiové dýhy jsou pečlivě vybírané a skládané tak, aby jejich vzor navazoval v celém interiéru. Kromě toho jsou opatřeny speciálním nano lakem, který zvyšuje jejich odolnost.
Nadstandardní dýhy
Palisandr santos

Dub selský OLD

Ořech americký fládrový
Dubová dýha PREMIUM
Dub rustikální
Dub rustikal přírodní

Dub rustikal OLD

Dub rustikal šedý

Dub rustikal hnědý

Dub americký carbon
Dub americký
Dub americký přírodní

Dub americký OLD

Dub americký šedý

Dub americký hnědý

Dub americký carbon
Přírodní dýhy Trendcollection
Dub trend přírodní

Dub trend old

Dub Trend šedý

Dub trend hnědý

Dub
Lamina Trendcollection
Dřevodekory
Lamino je v dnešní době jedním z nejpoužívanějších materiálů, je cenově dostupné, praktické a s naší nabídkou dekorů, které jsou k nerozeznání od přírodních dýh, taky velmi vzhledné.

White wood

Dub selský světlý

Dub selský světlý

Dub rustikal přírodní

Ořech Arezzo

Dub rustikal hnědý

Carbon wood
Lesklá lamina
Champagne lesk

Titan lesk
Matná lamina
Titan
Korpusy
Šedá

Titan
Specific designs and other options are available at our designers.
Worktops
The worktop is a very important part of every kitchen. You can choose from our wide range of materials and colours.
Laminate
Artificial stone
Technistone / Silestone
Ceramic
Granite
PD A 126

PD T 5044

PD O 084

PD P 105

PD B 134

PD T 5147

PD A 3347

PD F 6261

PD F 2272

PD T 5126

PD T 5125

PD S 6177

PD F 2204

PD S 218

PD F 4750

PD S 030

PD S 237

PD A 103

PD A 3294

PD A 3411

PD A 300

PD S 033

PD A 0509

PD S 164

PD M 6194

PD T 3120

PD T 3137

PD M 4822

PD M 9275

PD M 6263

PD M 2046

PD M 6156

PD U A330

PD A 566

PD A 577 MAT

PD S 389

PD T 4019

PD S 122

PD F 7673

PD L 5208

S 9097 / pouze zástěna
Possible designs regarding a specific type of furniture are available at our designers.
Carcases
Bílá hladká

Šedá

Antracit

Titan

Magnolia

Champagne

Mocca
Equipment & ergonomy of kitchen
The kitchen, which saves your time and your body
Your interior will be awesome
Come and visit our professional network of kitchen studios HANÁK.
Quality is not just a presentation and certificates, but is mainly about the technologies, materials, fair trade and cutting-edge manufacturing facilities. Be interested in the actual quality of the product and the declared parameters.

We are professionals in our field. You will meet only with trained planners, architects and designers, who will give you always only good advice. Visualization and price offers are prepared well and quickly.

Do you need advice? Visit our studio, we will create the best ergonomic and aesthetic design of the interior for you.