ELITE kitchen
ELITE kitchen is highly presentable as well as practical and well-arranged.
Your guests will admire it.
Nature versus hi-tech
that is the combination of wooden and varnish appearance.
Contrasts which go together.

HANÁK can produce any piece of furniture
We also offer you made-to-measure products.
For example a matching dining table is not a problem for us.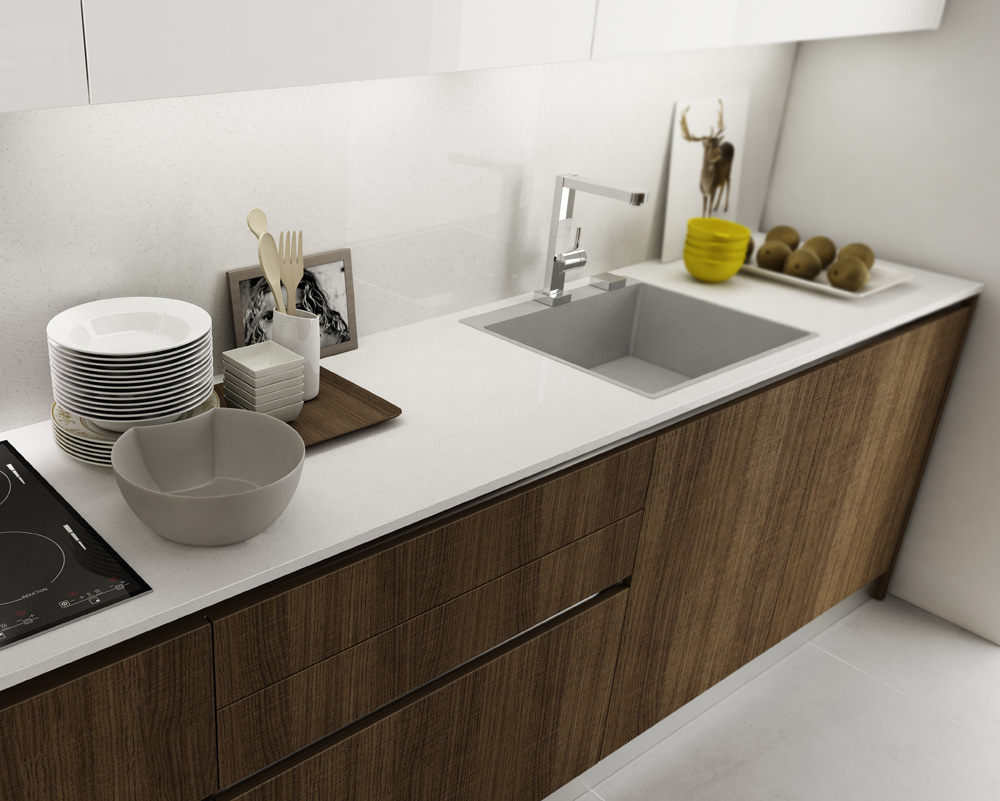 Clean design
is what typifies this kitchen.
There are no useless items, just
straightforward elegance and timelessness.
Let there be light
a well-lit work top is a must for pleasant and comfortable cooking. This can be achieved by illuminated wall cabinet bases.
More than 1,500 possibilities
We offer you more than 1,500 types of door designs and endless combinations of materials and colours for all pieces of furniture in these categories: veneer, varnish, laminate and glass with the option of surface design in gloss or matt. Get inspired and have a look at some of them.
Various designs for specific types of furniture are available at our designers.
Laminates Trendcollection
Wood decors
White wood

Dub selský světlý

Dub selský světlý

Dub rustikal přírodní

Ořech corte

Ořech Arezzo

Dub rustikal hnědý

Carbon wood

Dub carbon
Worktops
The worktop is a very important part of every kitchen. You can choose from our wide range of materials and colours.
Laminate
Artificial stone
Technistone / Silestone
Ceramic
Granite
PD U-S273MG

PD A 3347

PD T 5147

PD T 5125

PD T 5162

PD F 2272

PD S 6177

PD A 300

PD A 103

PD O 084
Possible designs regarding a specific type of furniture are available at our designers.
Carcases
Bílá hladká

Magnolia

Champagne

Mocca

Šedá hladká

Antracit

Titan
Equipment & ergonomy of kitchen
The kitchen, which saves your time and your body
Your interior will be awesome
Come and visit our professional network of kitchen studios HANÁK.
Quality is not just a presentation and certificates, but is mainly about the technologies, materials, fair trade and cutting-edge manufacturing facilities. Be interested in the actual quality of the product and the declared parameters.

We are professionals in our field. You will meet only with trained planners, architects and designers, who will give you always only good advice. Visualization and price offers are prepared well and quickly.

Do you need advice? Visit our studio, we will create the best ergonomic and aesthetic design of the interior for you.