Ergonomics of the kitchen
Start with the planning
Does cooking involve constantly walking back and forth from one part of the kitchen to the other? Well, it used to! A well-planned kitchen will save you many steps. Planning the zones will provide you with a sensible arrangement of the five most important work areas.

| | | |
| --- | --- | --- |
| One-row kitchen | Two-row kitchen | Kitchen with cooking island |
| | | |
| --- | --- | --- |
| G shape kitchen | L shape kitchen | U shape kitchen |
Kitchen zones
Pay attention to the correct arrangement of cupboards and drawers according to what you do in the kitchen. Then everything will be within reach.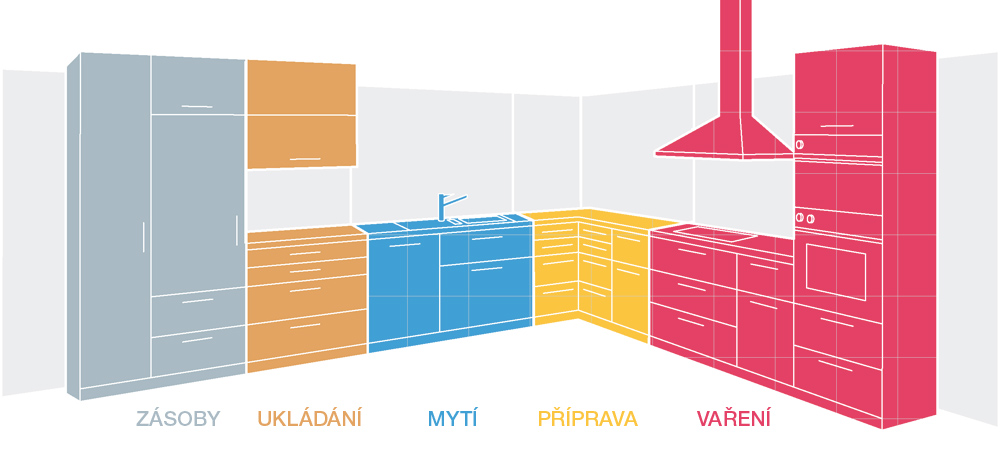 Food supplies
This kitchen zone is designated for storing typical daily food items, such as tins, rice, pasta and cooled drinks.
Storage
This kitchen zone is designated for storing kitchen utensils, glass and cutlery.
Washing
In this "wet" zone next to the sink and dishwasher, there is also a dish drainer, space for waste bins and cleaning liquids.
Preparation
This zone is the main work area of the kitchen. This is where most preparatory works are done as well as the cooking itself. There is also space for knives, kitchen devices and spice jars.
Cooking / Baking
This kitchen zone is where we find the stovetop, oven, microwave, extractor hood, sauce pans, frying pans, lids, cooking utensils and baking trays.
Levels of storing
In general, frequently used food items and utensils should be stored in easily accessible places directly under the worktop and in the first level of the upper cupboards. Rarely used utensils are placed over or under this level.
Rarely used utensils are placed in the top level of upper cupboards and in the lowest level of cupboards. This arrangement will save you a lot of time during everyday work in the kitchen.