Production and technology
The most modern furniture-producing factory in the Czech Republic

In 2019, HANÁK's production premises were expanded to a total area of 36,800 m2 with the addition of a new super-modern paint shop. HANÁK varnishing shops are equipped with state-of-the-art robotic and automatic varnish spray lines and cover an area of 5,700 m2.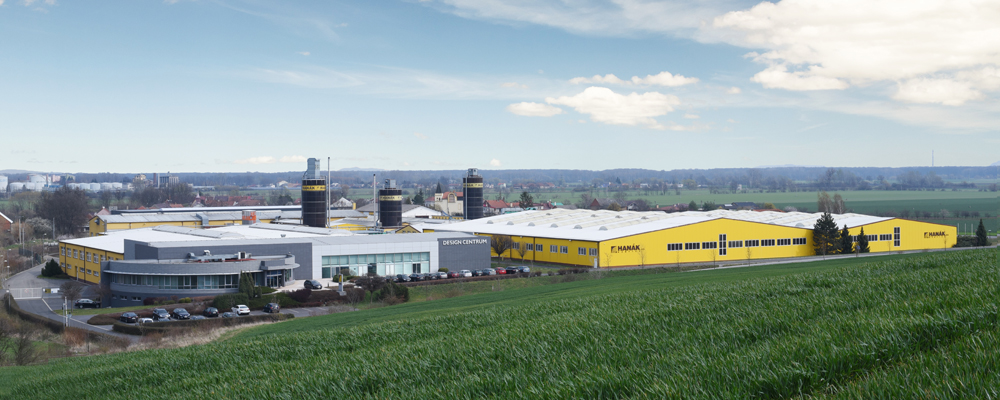 Back in the 1930s, Josef Hanák (the grandfather of the current owner) put his money on honest craftsmanship and top-quality surface treatments for his furniture, and we continue his legacy today.
What others consider outstanding is the everyday standard at HANÁK
Thanks to our great technological advances and manufacturing capacities, which can handle both individual orders and large-scale serial production for developer projects, we are one of the most comprehensive and modern furniture producers in Europe.
Our unique varnishing technology uses clear or pigmented nanovarnishes which range from 5% deep matt to 100% high gloss finishes.
1.. NEW VARNISHING SHOP with a unique air-conditioned and fully automated varnish spraying line and UV varnish curing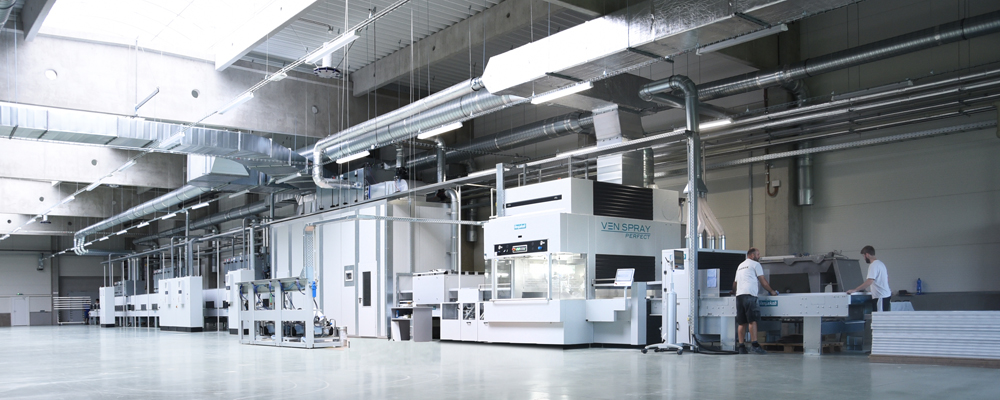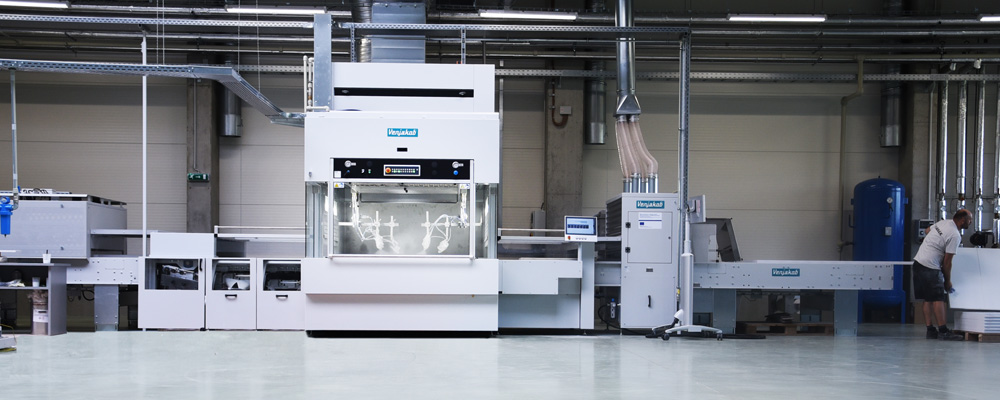 The line became fully operational in 2019. This tailor-made varnishing line produces products of the very highest quality thanks to special varnishes with nanoparticles, which are cured using UV radiation.
2. UV VACUUM varnish spray line – the best and most comprehensive line operating in the Czech Republic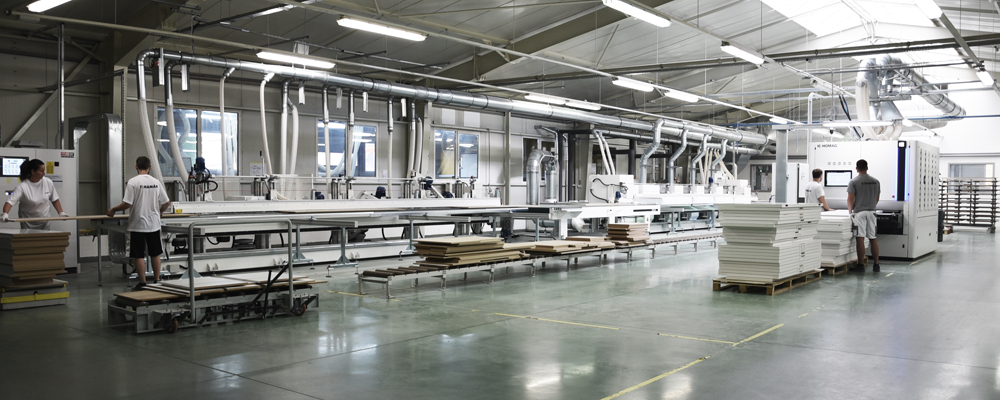 3. UV varnish spray line for the edges of furniture parts – the highest quality finish with 5 layers of varnish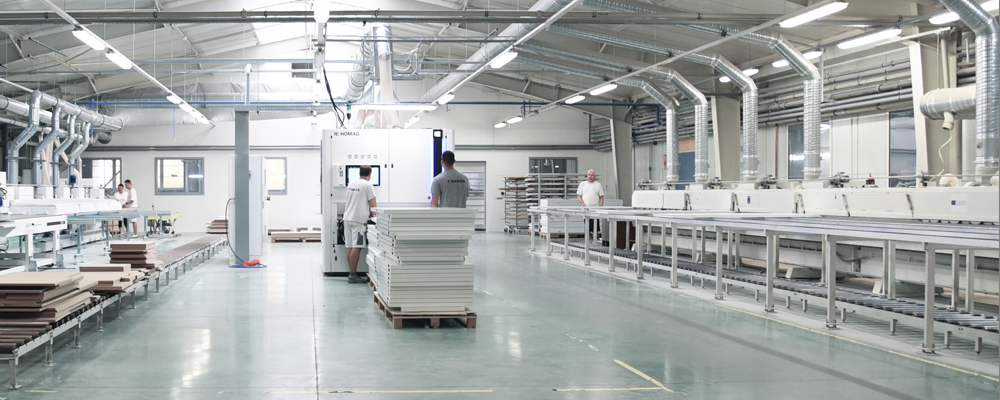 4. UV varnishing line for the surfaces of furniture parts – 5 layers of super-resistant primer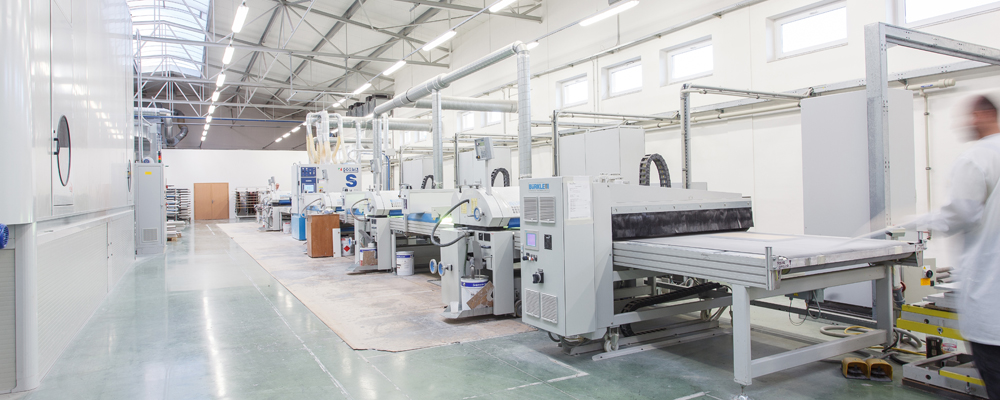 5. Dual-head robotic line with a high-capacity dryer and UV curing for applying pigmented topcoats and metallic varnishes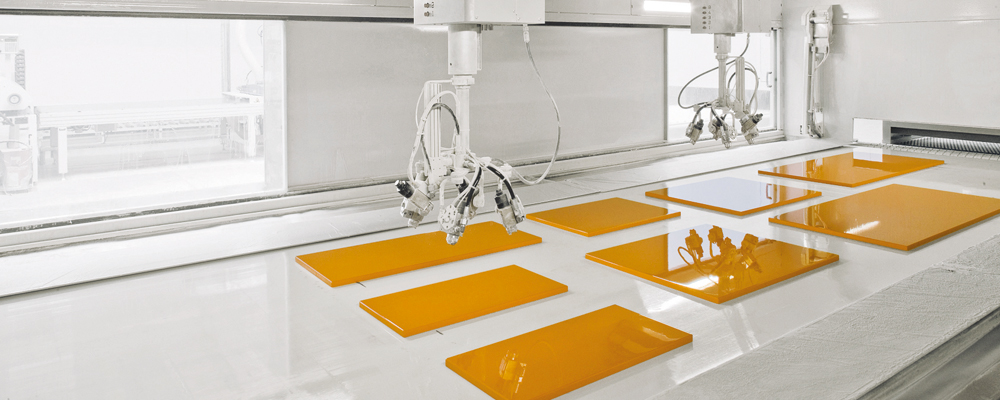 6. Automatic varnish spray line with UV curing and a high-capacity dryer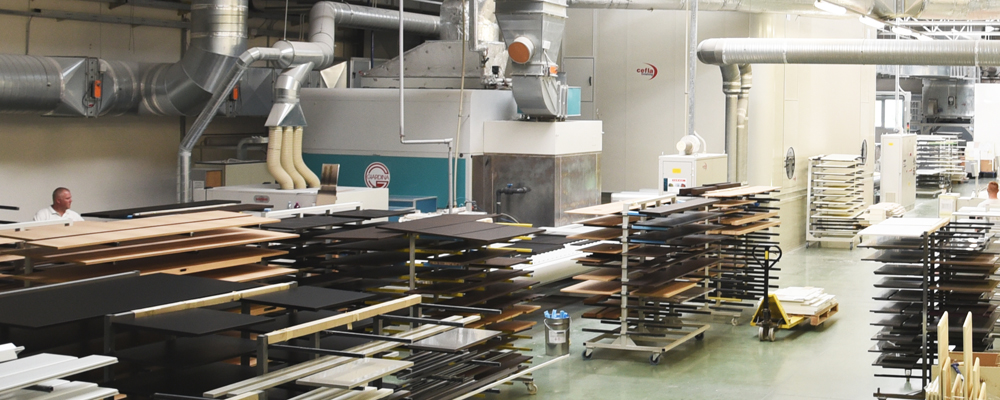 7. Spray-painting booths with a high-capacity drier for manual application of ordinary varnishes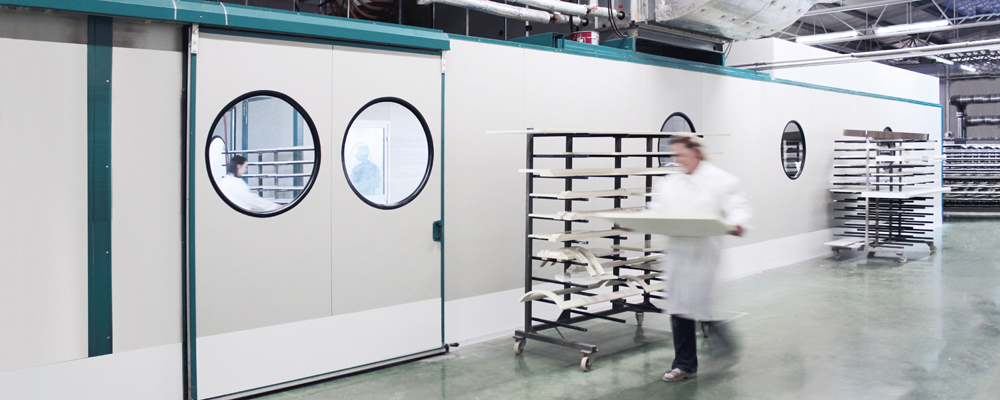 Product quality control with perfect devices such as spectrophotometers and gloss meters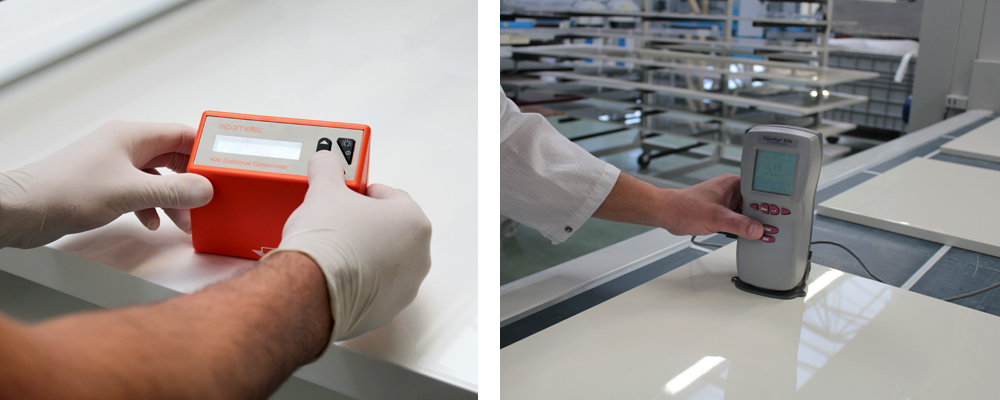 Every product is subject to an inspection process consisting of several steps, helping us to achieve the highest quality and, at the same time, long-lasting sustainability of the manufacturing process.
Nanovarnishes can even be applied to veneered furniture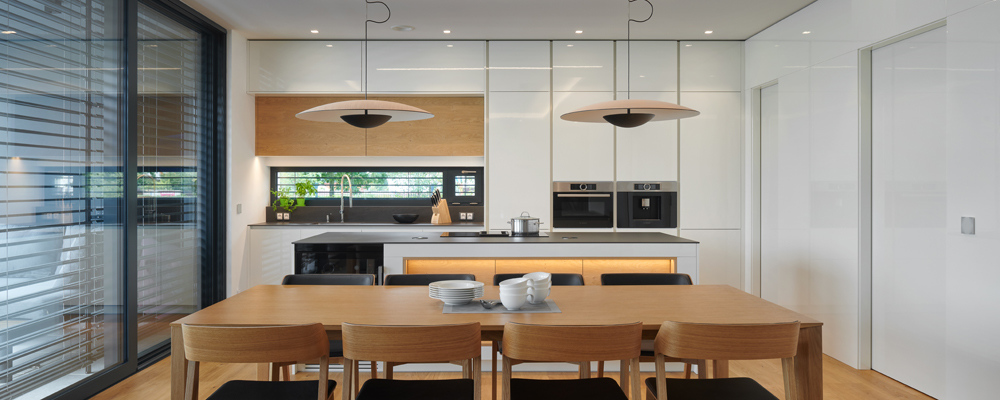 For the surface finishes of veneered and solid wood furniture, including interior doors, we use the very best products available on the market – varnishes with UV-cured nanoparticles. Varnish is applied to various furniture models in either a 5% deep velvet matt finish or a 100% gloss surface finish depending on the particular model.
Veneer furniture production technology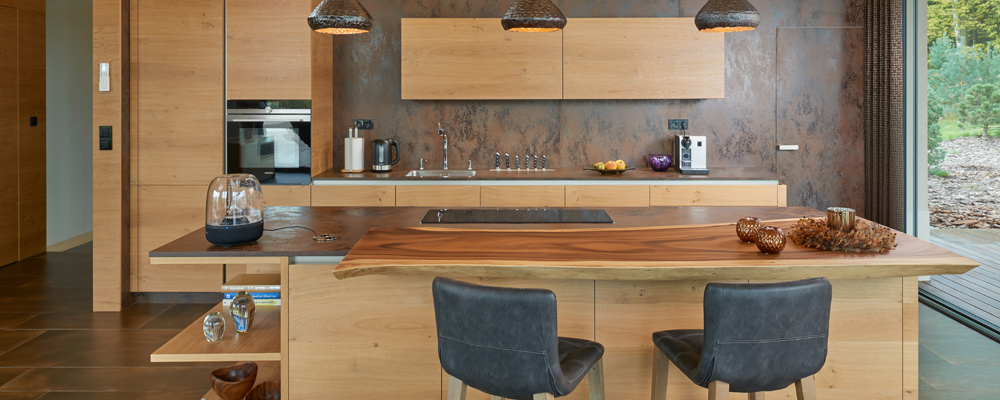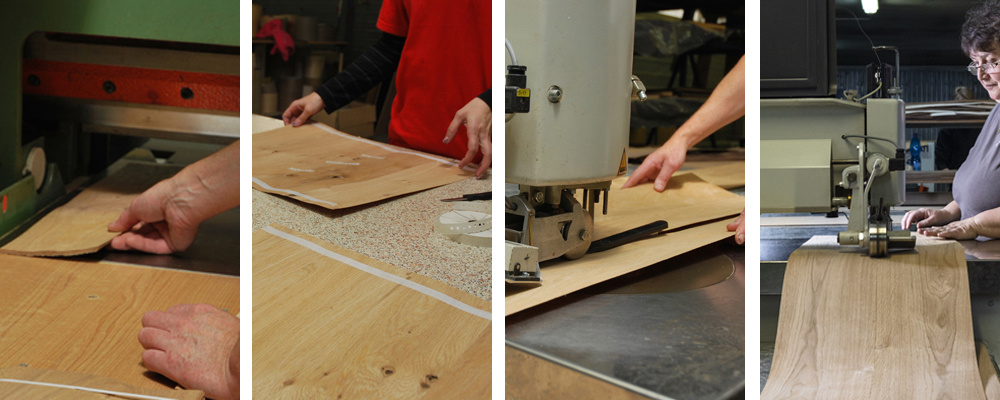 Our own veneer splicing workshop makes sure that each individual order is made into a pattern where the grain of the wood is consistent across the entire line of the product. High capacities for this kind of production is ensured by 3 pressing lines.
Solid wood production and hand-crafted production to order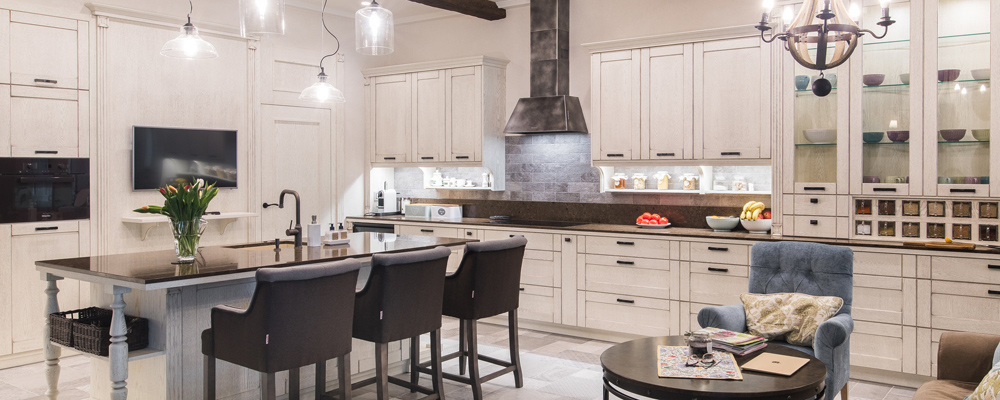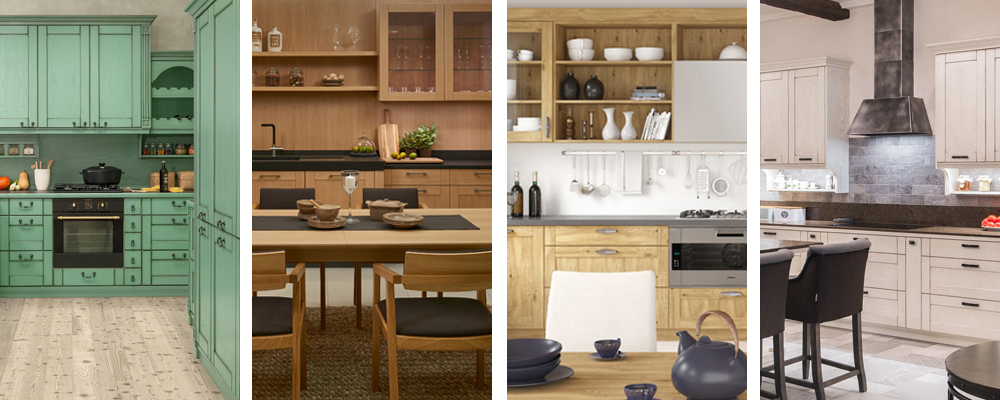 Technology and craftsmanship. We are convinced that one cannot work without the other. Verified master joiners have been working on our orders for years.
In the Hanák family, traditional craftsmanship is not only alive and well, it is constantly developing. The company produces, for example, elegant decorative bars both straight and round, rustic columns, mouldings, shelves, and a wide range of accessories for classic kitchens as well as other furniture that will further enhance the impression of the whole interior.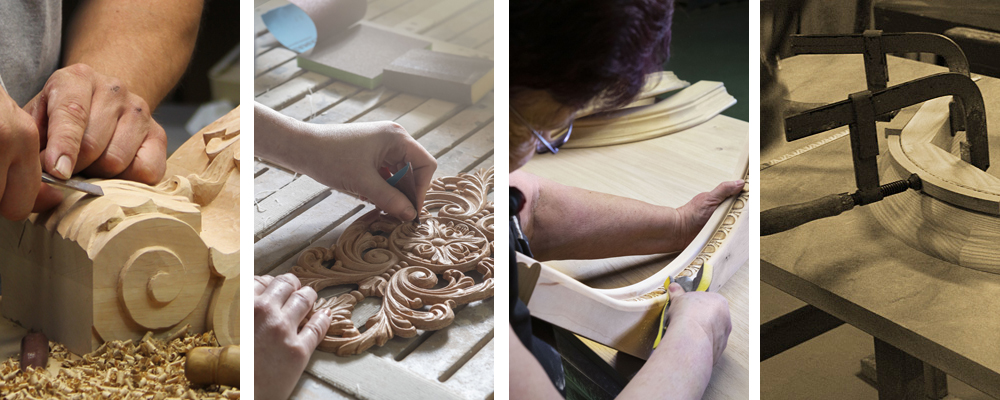 Hand patination and gilding technology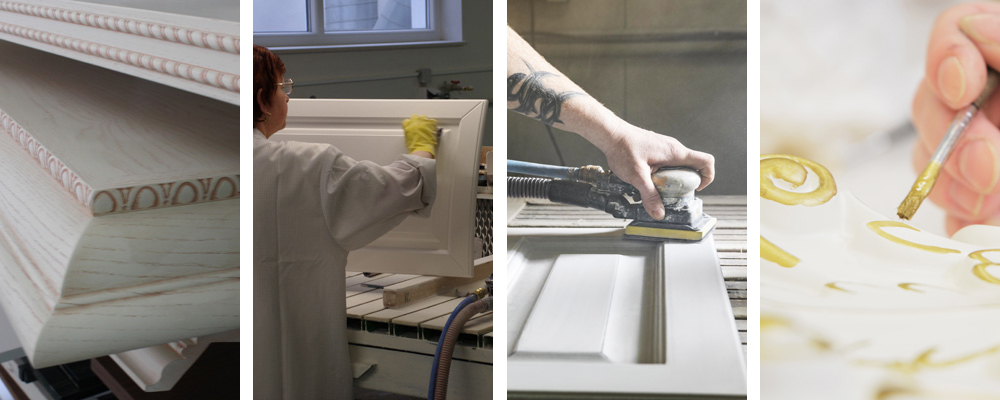 For the production of our rustic products, we also use highly admired manual patina, scratching and gilding technology. Thanks to the high proportion of manual work, each piece of furniture is a unique original.
Technology for sheathing profiles of furniture parts with ornamental veneers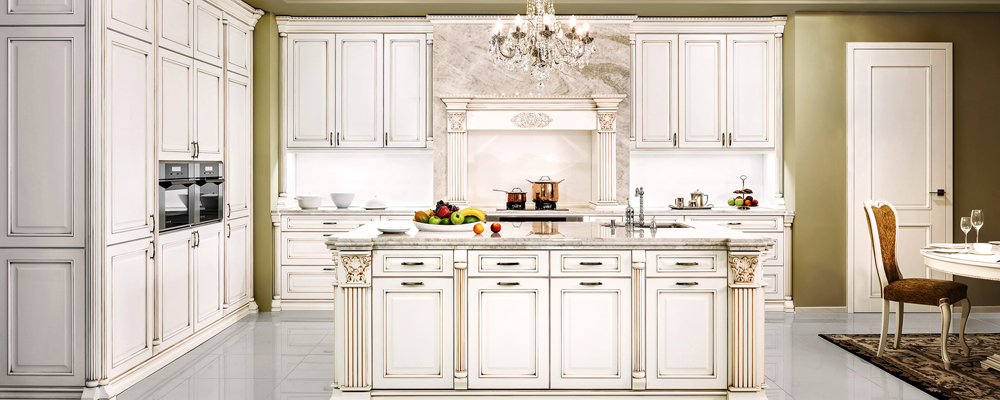 This technology is used for the production of door profiles for classic (rustic) furniture in the MILANO, NICE, and ROYAL series, as well as for the production of decorative mouldings and interior door frames. This sheathing technology consists of a coating for the basic profile of MDF board or solid wood with a specially treated veneer.
Form pressing technology for furniture components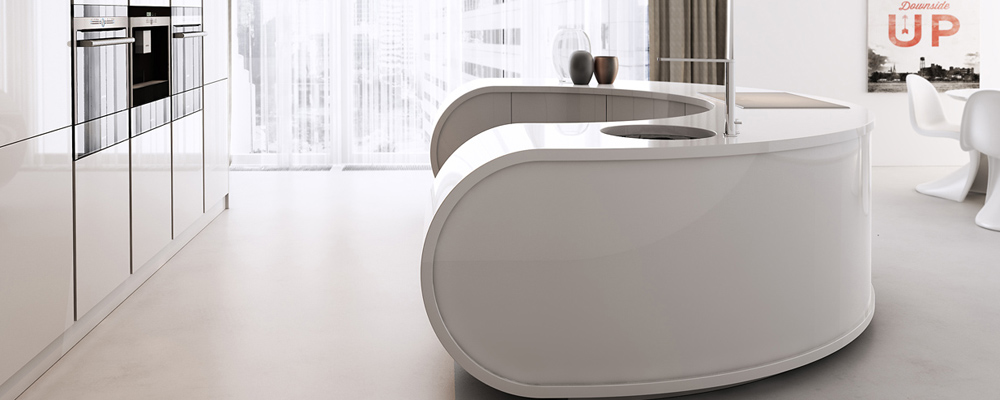 High-frequency form pressing is part of the production of all of HANÁK's rounded profiles, which we are produced to remain in the top quality in which they are originally produced without subsequent deformation. This technique is used for the production of all veneered and varnished rounded components, especially in kitchen units, bathrooms, children's rooms, living rooms, and bedrooms.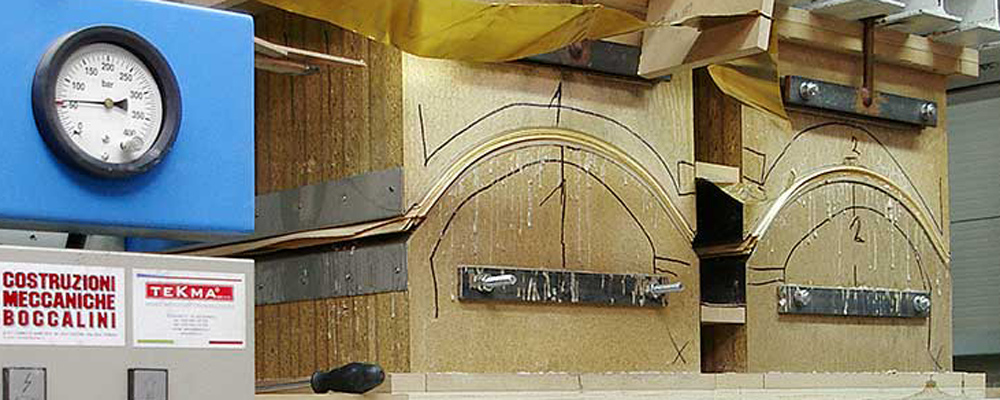 Form pressing technology for 3D furniture doors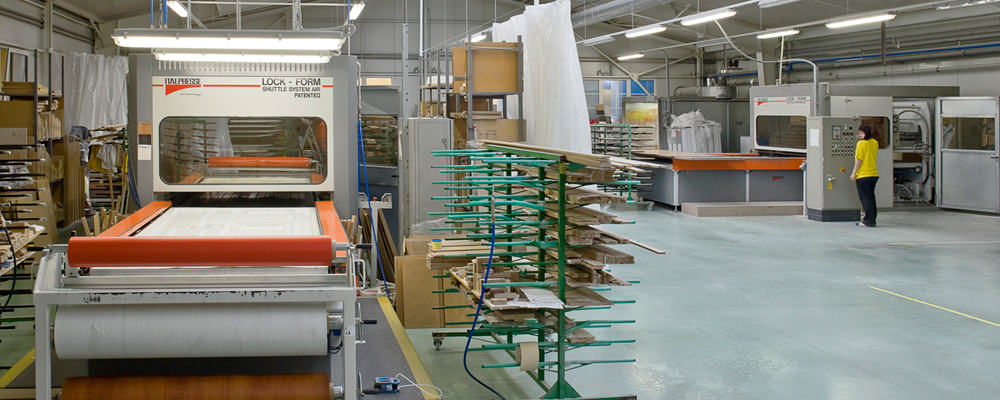 This technology is used to manufacture kitchen furniture doors or door panels using vacuum presses, which shape the veneers.
Patented furniture edge-banding technology: SLIM-LINE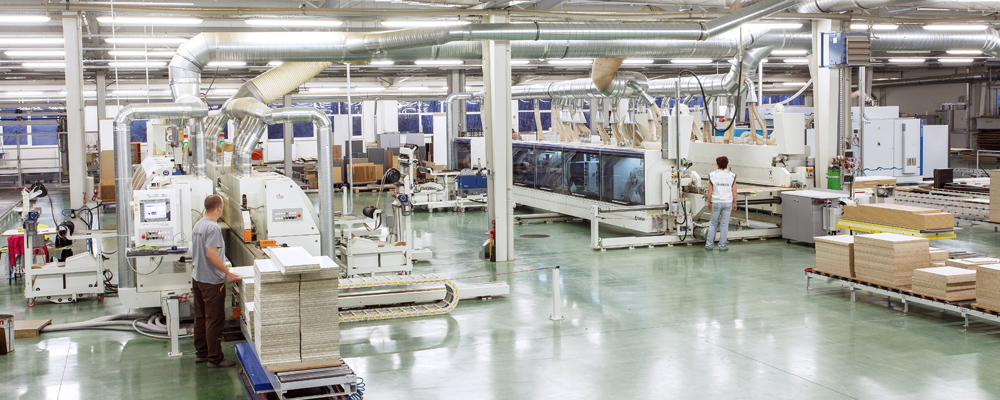 We are one of the few companies in Europe to use the patented state-of-the-art SLIM-LINE (PUR‑TERMOSET) edge-banding technology. This can create a water-resistant connection and prevent damp and water from entering the cupboards. Each part of our products has this coating. The new PUR-TERMOSET technology outshines the previous standard of banding carried out with EVA-TERMOPLAST glues in all parameters.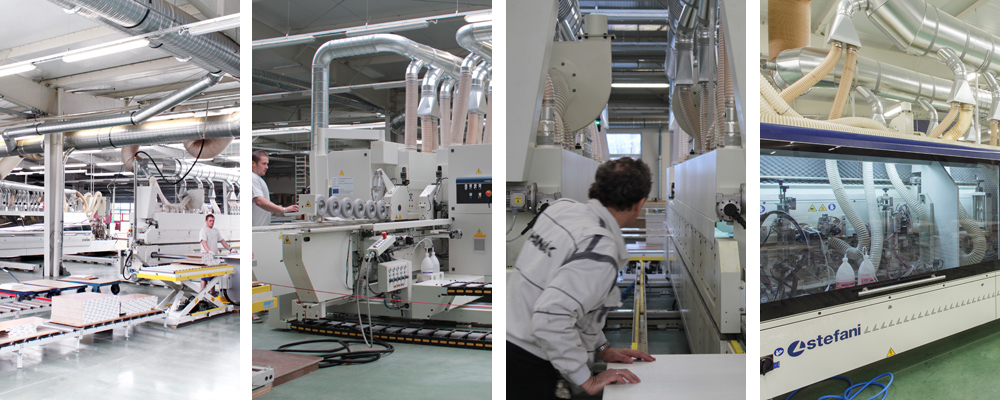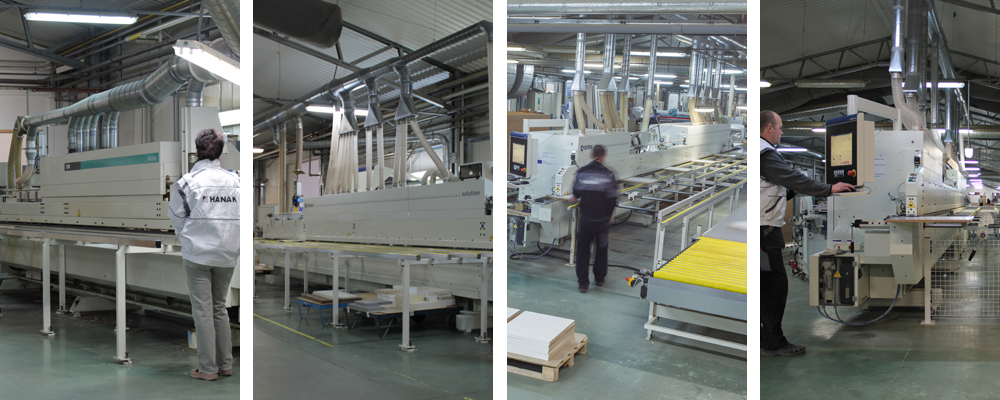 Quality test – new polyurethane banding technology
SLIM-LINE (PUR-TERMOSET)

Production of interior doors – lightweight honeycomb panel production technology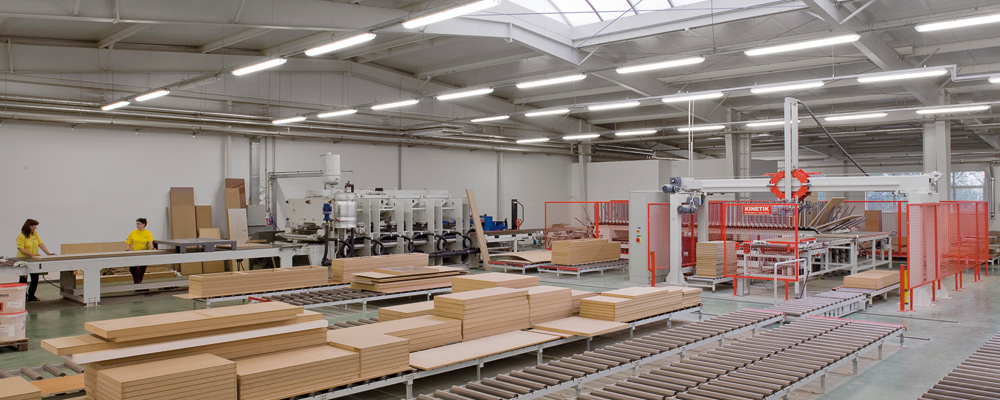 We use this technology to manufacture strengthened lightweight construction elements. The honeycomb products themselves consist of a solid frame made from eurotimber into which a honeycomb paper core is inserted; a two-sided coating of at least 6 mm is subsequently pressed onto the paper (a competitive advantage as most competitors offer only 3 mm). The product is coated with polyurethane glue and then finished with veneer or varnish to achieve a high gloss. Thanks to these features, the construction is extremely rigid and keeps its shape.
View of the production of interior doors and fire doors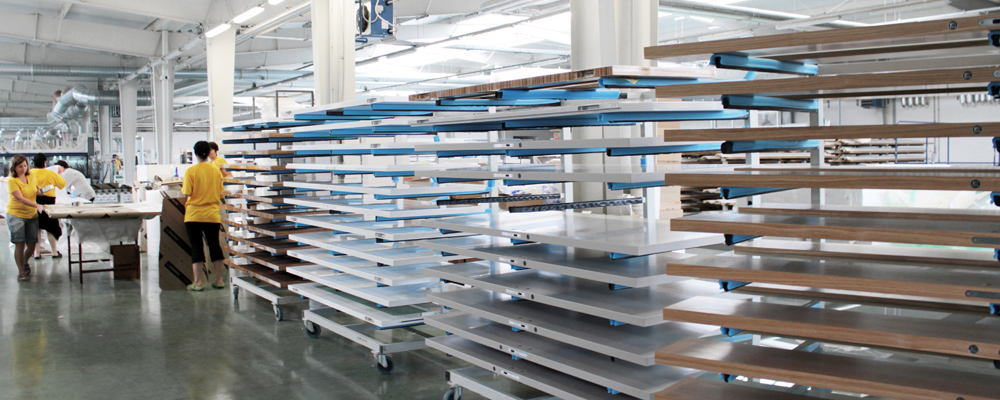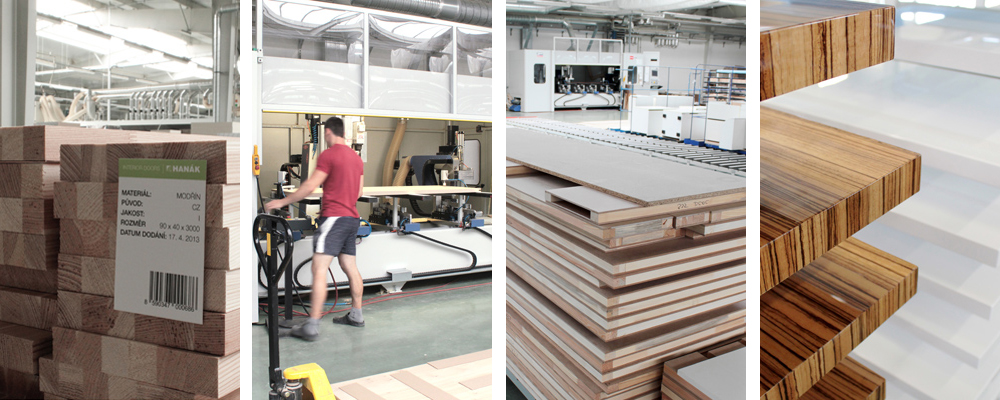 Robotic assembly and completion lines, packaging, and shipping