Manufacturing and technology
Contemporary manufacturing
As early as the 1930s our predecessors trusted in honest and fair craft working, and we believe in this tradition too. We were the very first furniture producing company in the Czech Republic to launch the cutting-edge technology for the application of polyester varnish on MDF in high gloss. Thanks to this experience our furniture has one of the best quality levels of surface treatment, not only in the Czech market, but also in the world.
The most advanced lacquering technology
Introducing the best and highest quality surface treatment for furniture! To give you a better idea – for MDF base we apply five layers of acrylic varnish on both sides, including the edges. This coat is then hardened by means of UV radiation. After hardening, another two top layers of polyurethane varnish are applied with high gloss or matt. This results in a varnished surface with almost unlimited lifetime, absolute resistance to humidity and high temperatures (up to 500°C). It also has the highest possible level of gloss, which cannot be achieved with any other technology.
For veneer surfaces, we apply four layers of acrylic urethane transparent varnish in high gloss on both sides of the piece, including the edges. We thus create a perfect functional and aesthetic protection of the veneer. We never use water-dilutable varnish.
We are always one step ahead of the others. We continuously invest into new technologies and increase our manufacturing capacity.
Thanks to our technological advantage and over-proportioned manufacturing capacity, which can manage small-scale production for end customers, as well as large-scale production for developer projects, we are one of the best equipped companies producing furniture in Europe.
The main philosophy of our manufacturing is almost zero cooperation. We are independent from subcontractors, and we strive to manage all technology and manufacturing processes by our own means within our company. Each product is subject to an inspection consisting of several levels, which helps us achieve the best quality and at the same guarantees the long-lasting sustainability of the manufacturing process.
Photo spectrometer
For inspection and measuring of colour appearance of varnished items we use a quality portable spectrometer with 3D focus, which is able to precisely and correctly measure the colour of items of various size, shape and surface. Thanks to the measured colour tone we can produce furniture in the same colour tone even many years later.
Glossmeter
Díky leskoměru přesně stanovíme stupeň lesku lakovaného dílce. Lesk je schopnost povrchu odrážet světlo bez rozptylu. Při testování se na povrch namíří konstantní paprsek světla pod určitým úhlem a měří se množství odraženého světla. Leskoměr lze použít pro měření celé řady povrchů, od vysoce lesklých až po matné.
Veneer treatment technology
How do we treat the veneer? Just imagine a core made from wooden fibres connected with synthetic glue using temperature and pressure. The MDF from which HANÁK PREMIUM furniture doors are made is of emission class E1LE and has CARB Phase 2 certification. This means it is made from pure wood without using recycled materials. Thanks to MDF and this certification we can guarantee that our products are not harmful to health.
As we already mentioned when discussing the process of varnishing, we apply four layers of varnish on veneer surfaces. We never use water-dilutable varnishes because they do not have the required resistance. Our state-of-the-art technologies for varnish application and toxic substance incinerator allow us to work only with high-end varnishes based on polyurethane, which can be performed only by top-ranking producers with cutting-edge technology.
Shape pressing technology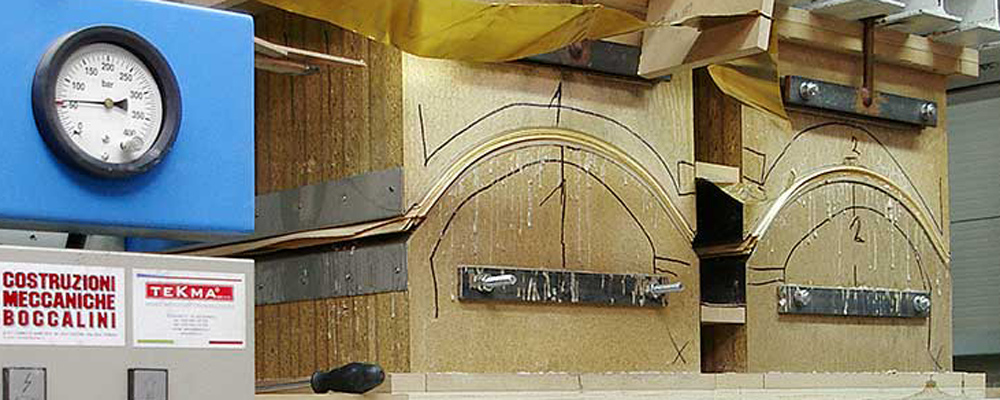 Shape pressing is part of the production of all round and oval profiles which we are able to produce in first-rate quality, in high gloss as well as deep matt. This also involves production of high-quality veneer round items used especially for kitchen cupboards and living room furniture. The most popular and sought after are for rustic and modern kitchens. We use the first-rate exclusive veneer for manufacturing of splicing for kitchen items, living room furniture and bedroom furniture.
Coating technology
This technology is connected especially with the manufacturing of furniture doors for classical (rustic) kitchens, wreath decorative slats and interior door frames. It is coating of the base made from MDF board by specially treated veneer.
Technology of covering the edges: SLIM-LINE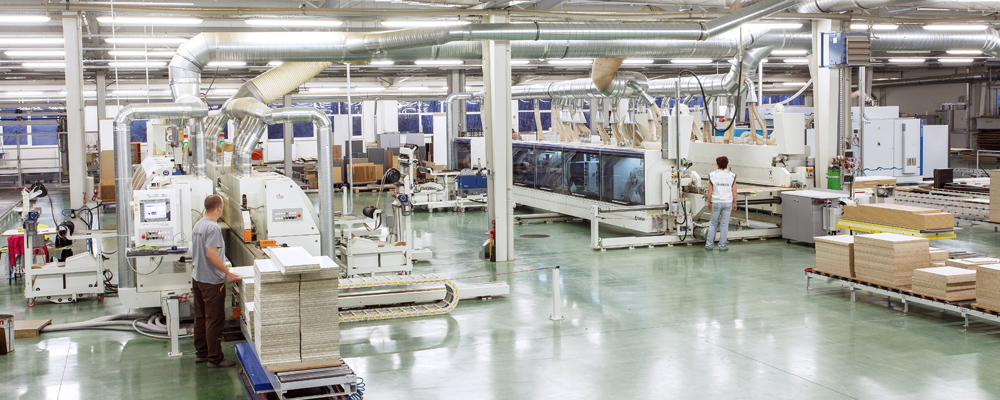 We are one of the few companies to employ the latest technology of coating the edges using a glue based on polyurethane SLIM-LINE (PUR – TERMOSET). This can create a water-resistant connection and prevent damp and water from entering the cupboards. Each piece of our products has this coating. The new PUR – TERMOSET technology goes beyond the until now standard coating performed with EVA – TERMOPLAST glues, and in all parameters.
Quality test – new polyurethane coating technology
SLIM – LINE (PUR – TERMOSET)

Honeycomb board technology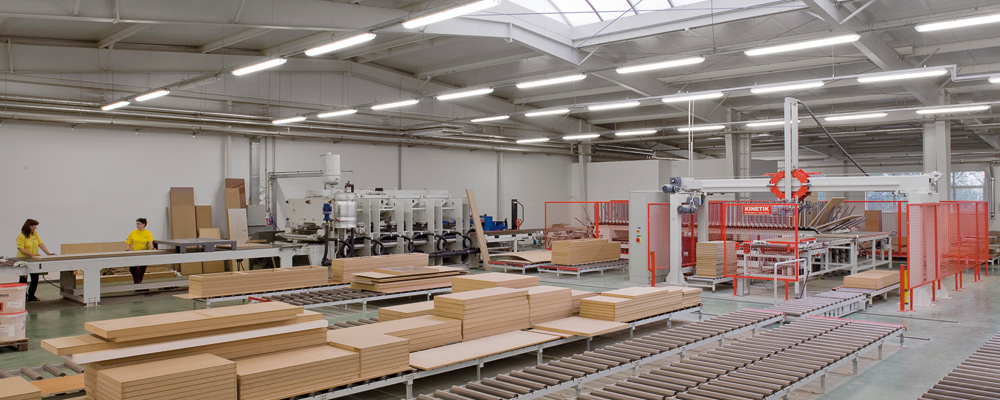 We use this technology to manufacture strengthened lightweight construction elements. The honeycomb product itself consists of a solid frame from eurotimber into which honeycomb paper is inserted, on which a coating of at least 6 mm is pressed in (most competitors offer only 3 mm). This product is coated with polyurethane glue and then finished with veneering or varnishing to achieve a high gloss. Thanks to these features the construction is extremely rigid and keeps its shape.
Production of interior doors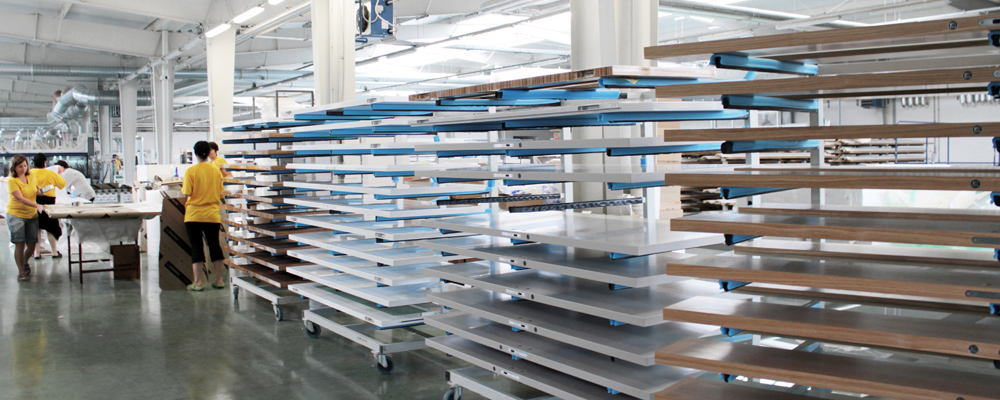 Membrane pressing of veneer and foils technology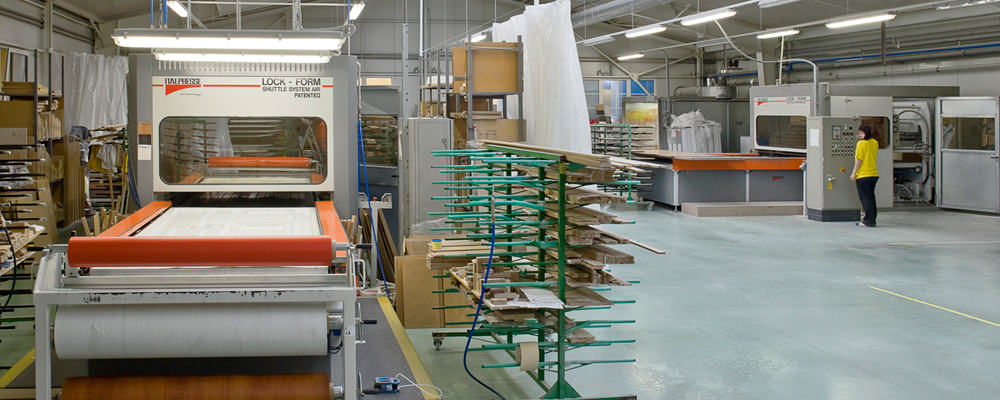 This technology is used to manufacture kitchen furniture doors on vacuum press welders performing shape veneer or foil pressing. Unlike the great majority of kitchen door producers, we use two-component glues for pressing, i.e. besides our own glue we also use a hardener. As a result thermal and mechanical resistance is higher. If only glue is used, the thermal resistance is approximately 60-70°C. If we use a two-component glue, the thermal resistance increases up to 80-90°C, which is one of the fundamental advantages of this method.
Robotic assembly and finishing line, packing and expedition